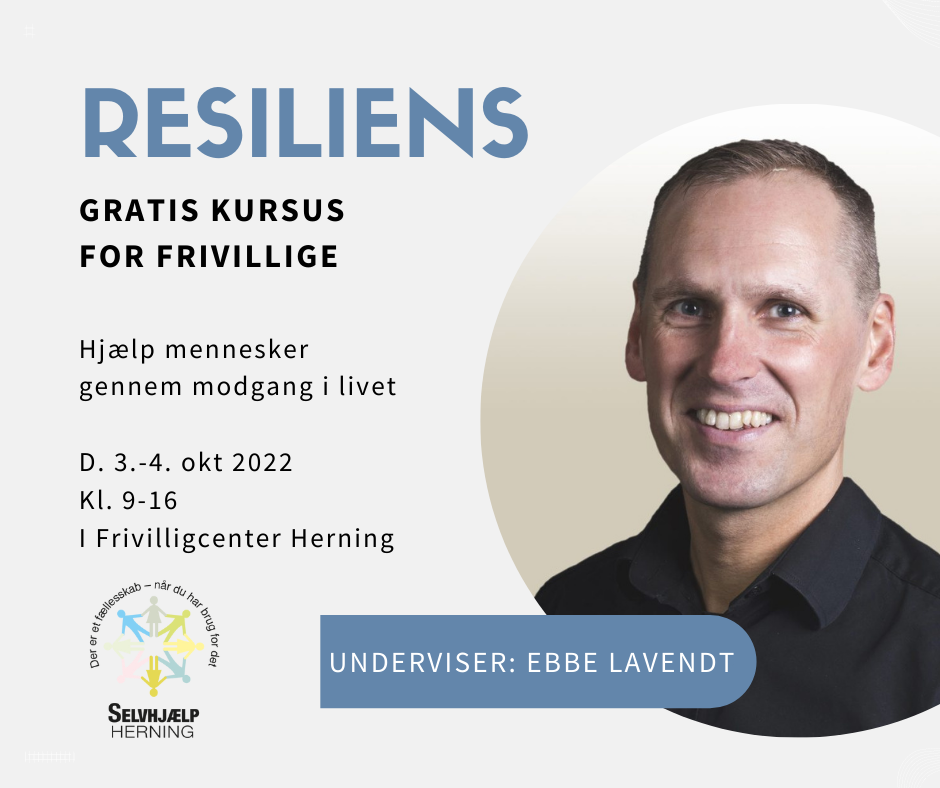 Sammen med Frivilligcenter Herning inviterer vi vores frivillige på et gratis, todages kursus i Resiliens. Vi har igen i år været så heldige at få lokket dygtige Ebbe Lavendt til Herning, og vi kan allerede nu love, at det bliver to spændende og lærerige dage.
Kurset bygger på forskningen i positiv psykologi og giver viden og værktøjer, som I som frivillige kan anvende til at hjælpe vores gruppedeltagere med at opbygge robusthed og resiliens.
Kurset forløber over to dage:
Mandag d. 3. oktober 2022 kl. 9-16
Tirsdag d. 4. oktober 2022 kl. 9-16
Kurset foregår på Fredensgade 14 i Herning. Det er gratis for dig, som er frivillig hos Selvhjælp, og vi sørger for forplejningen undervejs.
Der er begrænsede pladser, så tilmeld dig hellere i dag end i morgen enten her i kommentarfeltet eller ved at sende en mail på kontakt@selvhjaelpherning.dk. Der er tilmeldingsfrist d. 5. sep.
Er du ikke frivillig hos Selvhjælp Herning og gad du godt med på fremtidige kurser? Så meld dig som frivillig ved at kontakte kontoret på tlf. 53 58 65 88 // kontakt@selvhjaelpherning.dk. Vi har altid brug for nye frivillige til forskellige opgaver.